At 3pm Arrowhead time tomorrow, all 2012 contracts expire and the free agency period officially begins. The Chiefs have many players that will be leaving, not given the opportunity to return.
One name in particular is 8 game starter, QB Brady Quinn, who failed to revitalize his career in KC when given the opportunity last season.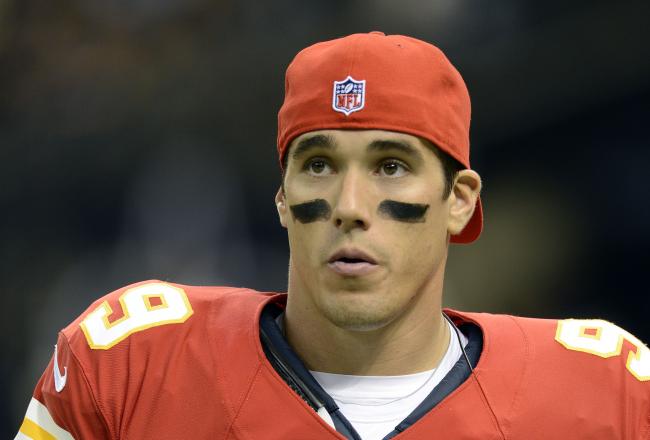 QB Brady Quinn
The Chiefs have very few holes to fill and can add quite a bit of depth in the coming weeks to key positions. The signing of Bowe, Colquitt,

and the Franchise tagging of LT Brandon Albert were key moves. RT Eric Winston has been released and CB Dunta Robinson has been signed to a 3-year deal.
WR Dwayne Bowe
So whats going on in Chiefs Nation? John Dorsey is what

's

going on. He's been busy re-vamping the roster, tailoring each player acquisition as a sign of adding depth, not an act of a team re-building.
Matt Cassel seems destined to be leaving KC as his release seems to be coming at any second, due to the trade for QB Alex Smith fr

om the 49ers.
QB Alex Smith
Tyson Jackson has had his contract restructured to a more friendly dollar amount for this new regime and it looks as if the Chiefs may try and retain the services of DE Glenn Dorsey, who will also become a free agent tomorrow aftern

oon.
DE Tyson Jackson
So where does all this leave the Chiefs currently? So far, it shows that owner Clark Hunt has put his foot down. He brought in Andy Reid, John Dorsey, and the co

aching staff is in place. So far so good.
John Dorsey and Andy Reid have made their presence known with all the recent roster moves. Does the buck stop here? No. More su

rprises are to be had. John Dorsey is playing his GM cards very well, and revealing nothing.
What can we, as Chiefs fans expect? Change. It has been made, and is currently in the making. The next couple of weeks will be very interesting. Surprises are coming on an almost daily basis

and tomorrow should bring more.
I for one, am very optimistic about what has transpired since

former GM Scott Pioli was ousted.
So hold on Chiefs Nation, this ride is going to continue. Has the Ace

-

o

f-S

pades already been played? I doubt it. Keep it

moving

Dorsey, it's been a great ri

de so far. The future, starts tomorrow.
Go Chi

efs!
Thanks for reading!
Follow @ChrisAtkins4GM